4 And 5 Bed Villas for Sale in Runda
Redefining The Urban Lifestyle
From Kshs 125,000,000
Pricing for 4 and 5-Bedroom Villas.
4 Bed Villas - Selling From Kshs 125,000,000

(Sold Out )

5 Bed Villas- Selling From Kshs 140,000,000

( Only A Few Units Left )
Redefining Urban Lifestyle: Discover Luxury Homes in Runda, Nairobi
These exceptional 4 and 5-bedroom villas for sale in Runda, Nairobi. Situated in close proximity to Nairobi's Diplomatic Center and renowned shopping destinations, this development offers residents a gateway to a world of privileges and comforts.
These 4 and 5-bedroom villas enjoy a prime location in Runda, merely three kilometres away from prominent establishments such as the United Nations Headquarters, the US Embassy, and various diplomatic missions and organisations in the Gigiri area. The proximity to these esteemed entities ensures that residents have unparalleled convenience and access to essential amenities.
A Green Haven With Abundant Open Spaces
Nestled within a sprawling development, these villas are embraced by a lush green haven. Over sixty percent of the property is dedicated to open spaces, including interconnected orchards, meadows, and private gardens that harmoniously span across the development. This natural setting invites residents to immerse themselves in the beauty of their surroundings, offering peaceful retreats and serene views.
An Array Of Unmatched Amenities
Residents of these villas are granted exclusive access to a wide range of amenities designed to elevate their living experience. The Mediterranean-inspired clubhouse serves as a focal point, showcasing elegant architecture that exudes timeless charm. Inside, you'll find a well-equipped business centre and a library, providing an ideal space for work or leisure. Indulge your taste buds at the themed feature café, offering a delightful culinary experience. For movie enthusiasts, a private screening room (theatre) awaits, promising an intimate and immersive entertainment experience.
Families with children will appreciate the indoor and outdoor playgrounds, where little ones can explore and play to their heart's content. A private concierge service is available to cater to your needs, ensuring a seamless and convenient lifestyle. For added peace of mind, a medical room (sick bay) is conveniently located within the development. An on-site management office ensures efficient operations and prompt assistance.
Recreation And Wellness at Its Finest
Unwind and rejuvenate in style with the luxurious recreational facilities provided. Immerse yourself in the heated 30-meter length resort-style swimming pool, offering a tranquil escape from the outside world. Maintain your fitness routine at the state-of-the-art gym, aerobics, and yoga studio, where you can pursue your wellness goals. Relax and rejuvenate in the steam room and sauna, indulging in a soothing experience. Sports enthusiasts will delight in the two flood-lit tennis courts, half basketball court, and squash court, offering opportunities for friendly competition and active lifestyles. Additionally, an outdoor jogging circuit allows residents to embrace a healthy and active way of life.
These 4 and 5-bedroom villas in Runda, Nairobi redefine urban living. With their prime location, abundance of open spaces, and an unmatched range of amenities, they offer an unparalleled lifestyle experience. Enjoy the elegance of the Mediterranean-inspired clubhouse, the convenience of a private concierge, and the tranquility of lush green surroundings. Embrace a life of luxury, comfort, and exclusivity in these remarkable villas


Mediterranean-inspired clubhouse design
Business center & library
Private screening room (theater)
Indoor & outdoor children's playgrounds
Private concierge service
On-site management office
Heated 30 meter length resort style swimming pool
State of the art gym, aerobics & yoga Studio
Two flood-lit tennis courts
Sign a reservation form and pay a deposit fee.
Discuss your payment plan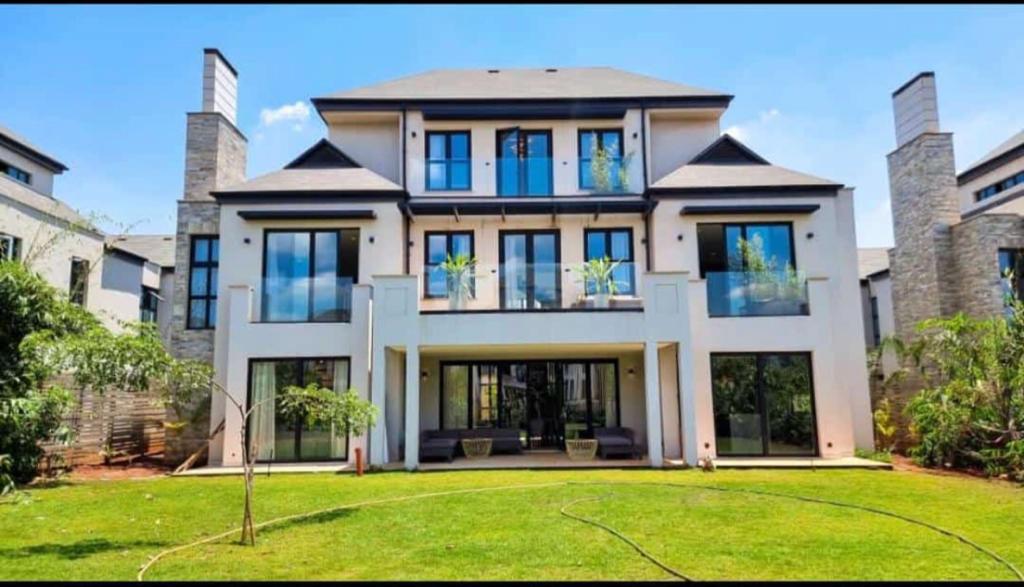 4 And 5 Bed Villas
By Koch Properties