4 Bedrooms + DSQ for Sale in Kiambu
Discover Your Dream Home: A Luxurious 4-Bedroom Bungalow House In Kiambu
Kshs 40,000,000
Are you searching for the perfect home that combines elegance, comfort, and convenience? Look no further! This exquisite 4-bed all-en suite bungalow nestled in the prestigious neighbourhood of Kiambu, located in Ndumberi. Situated on 0.501613 acres of land, this remarkable property offers lush gardens that provide a tranquil and serene atmosphere for you to enjoy.
As you step into this 4 bed bungalow house is an inviting entrance porch lounge, where you are immediately embraced by an ambiance of elegance and sophistication. The thoughtfully designed layout ensures a seamless flow throughout the entire residence, offering you the utmost comfort and convenience.
Unforgettable Spaces For Unforgettable Moments
Open, Modern Kitchen: Immerse yourself in the heart of the home—this 4 bed bungalow house is equipped with a modern kitchen adorned with granite worktops, a double stainless sink, and high wooden shelves. It seamlessly connects to the charming backyard, offering an idyllic setting for al fresco dining.
Walk-In Pantry: Find solace in the walk-in pantry, complete with ample wooden shelving that ensures all your kitchen essentials are easily accessible.
Convenient Laundry Area: Effortlessly tackle laundry tasks in the well-appointed laundry area, which features a utility sink for added convenience.
Comfortable Study Room: Create a haven for work or study in the comfortable study room. This space allows you to focus and be productive while surrounded by a soothing atmosphere.
Private Home Office: Achieve a harmonious work-life balance in the privacy of your own home office. This dedicated space ensures productivity and tranquillity go hand in hand.
Inviting Media Room: Unwind and indulge in the inviting media room, where you can lose yourself in captivating movies, TV shows, or your favourite leisure activities.
Find solace and respite in any of the three spacious bedrooms, each boasting in-built wardrobes and an en-suite bathroom complete with a shower, mirror, W.C, WHB, and overhead shower. These carefully designed bedrooms offer ample space for relaxation and privacy.
The master bedroom stands as a testament to opulence, featuring in-built wardrobes, an en-suite bathroom complete with a bathtub, mirror, W.C, WHB, overhead shower, and access to a terrace. Indulge in the epitome of luxury as you unwind in this exclusive space tailored for your well-being.
Additional Convenience : Semi-Detached DSQ
This exceptional property also includes a semi-detached DSQ (Domestic Staff Quarters) that provides in-built wardrobes and a chic en-suite bathroom with a shower, mirror, W.C, WHB, and overhead shower. This additional living space ensures your domestic staff can enjoy comfortable quarters while being conveniently close.
Eco-friendly features
In line with an eco-friendly lifestyle, the property is equipped with 2No 300L solar water heaters. By embracing these sustainable features, you not only reduce your carbon footprint but also enjoy a constant supply of hot water—an embodiment of modern living at its finest.
An open, modern kitchen with granite worktops
A convenient laundry area complete with utility sink
2No 300L solar water heater
Put down your deposit and sign your sale agreement.
Discuss flexible payment plan on balance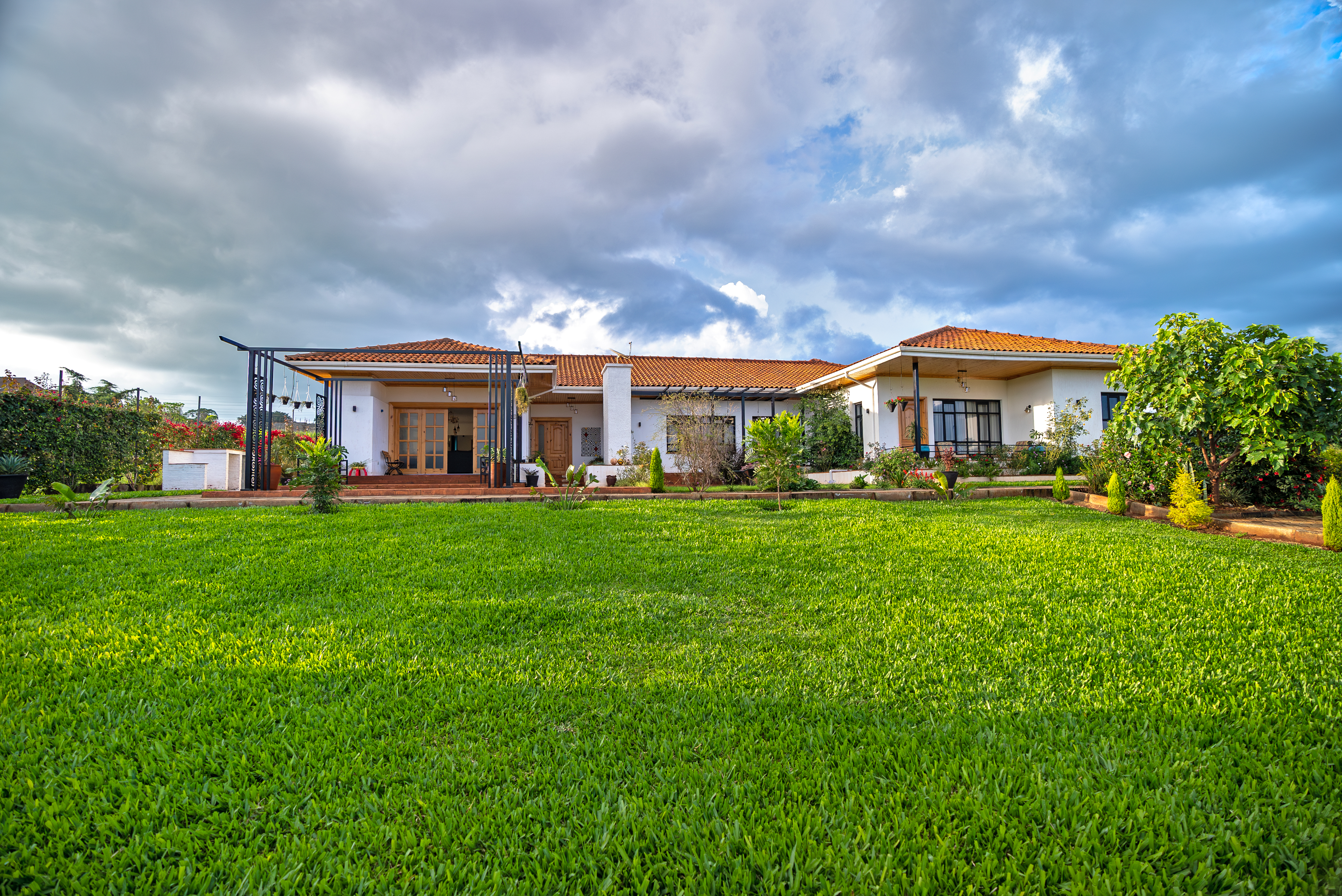 4 Bedrooms + DSQ
By Koch Properties